​​
To Doug's surprise when he and Tex arrived at the Buda Wiener Dog Race, they found that 700 dachshunds were entered and several thousand spectators were in attendance. Tex, who at the time of his first race was only 7 months old, managed to make it to the quarter final round. He was a natural from the beginning, and both Tex and Doug were hooked on wiener dog racing from that point. 
​
Doug found the family atmosphere, along with the comical competition, something unique and special. Everyone at the race was happy, connected, and truly enjoying the event and the atmosphere. 
​
In July of 2009, Doug returned to North Fort Myers, where he was raised, to care for his ailing father after the loss of his mother.  During this time Doug heard of a small wiener dog race in Avon Park and decided to enter Tex. Members of the family decided to come along to see the race and what the big thrill about wiener dog racing was.  After the family members saw the race they were taken in by the event, and for over a month that was all they wanted to talk about. A relative suggested that Doug should start his own race in the Fort Myers area.  Doug agreed that he would, if the others would help in putting it together. 

​

​​

Doug got to work and along with his friend Dave Theiss start

​​
ed
to scout locations to hold such an event.  They decided to go to the North Fort Myers Chamber of Commerce for some assistance.  They were directed by the Chamber to contact Donna Ellis, who at the time was the Marketing Manager  for the Shell Factory. Donna met with Doug and Dave, and loved the idea and concept.
Donna said that in order to properly promote such a project, a name for the event was going to be needed.  Doug suggested "Florida" to make it an event that would gain a larger base in which to draw from.  Dave suggested "Wiener Dog" as this would distinguish it as a dachshund specific event. Donna suggested "Derby" as this would give it a racing title.​
Thus the "Florida Wiener Dog Derby" (FWDD for short) was officially born.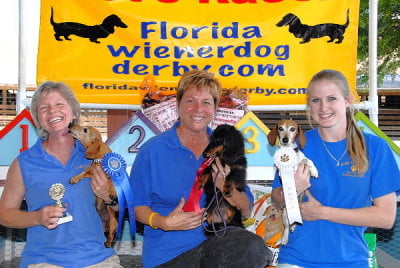 In only 90 days, the committee managed to hold the largest first time Wiener Dog Race ever in the United States, with 262 racing dachshunds and over 3000 spectators!

  The Florida Wiener Dog Derby Inc. has appeared on Wagworld.com a website of the Purina Company . When asked about how the Purina Company knew about the Florida Wiener Dog Derby, the reporter commented, "My editor stated that this is a famous event and to make sure we cover it".
The FWDD has run an exhibition race at Hammond Stadium in Fort Myers for the Fort Myers Miracle Dog Daze promotion. It was the first time a true wiener dog race was held in a Florida Pro Sports Stadium. The FWDD has also raced at The Predators Football Half-Time and the Solar Bears Ice Hockey Intermission at Amway arena in Orlando Florida.
​​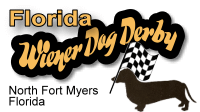 Our original Logo
​The Florida Wiener Dog Derby Inc. has grown in popularity and thus was incorporated into a non-profit fundraiser in 2015. At first the FWDD supported Dachshund rescues, but since its immense popularity, the FWDD has been asked to host race & competition events for additional non-profit charities. The FWDD has assisted in race events all over the state of Florida during the fall and winter months.
​
​​

The main Annual Florida Wiener Dog Derby race is now held in conjunction with Riverfest in Tampa, Florida, in Curtis Hixon Park. Riverfest is held annually on the first Saturday in May. 

On May 4, 2019, the 10th annual derby was held at Curtis Hixon Park with all previous FWDD Champions invited to attend and proudly display the FWDD Grand Champion Masters Jacket. This year we proudly continue to celebrate 11 years of Dachshund race and competition excellence. With our dedication to excellence, we continuie to be part of the National Dachshund Race (NDR) Circuit. We are honored to be a part of this circuit started by the late and beloved Toni Gossard.


​As we move forward into the future, we hope you continue to come and enjoy our events. 

We sincerely appreciate all the feedback you provide us. With each event we strive to provide nothing but a fun memorabile experience for all your family members. We also hope to raise money and awareness for our guest rescues/charities we support at each event. 
Thank you for all your support.
See you at the races,